Overview
Launched just a couple of years back in 2021, Bally Casino is the new kid on the block in the world of online casinos. But boy, has it made an impact, especially among New Jersey players. It's not really shocking, considering Bally's strong background in traditional gambling.
Whether you've hit the slots at Bally's Atlantic City or ventured further afield, this online spot is definitely worth your attention. With a diverse selection of games, a unique 'money back guarantee' twist on a welcome bonus, and even nifty mobile apps, there's a lot to get excited about.
To put it simply, our Bally Casino review for 2023 is shaping up to be a real winner!
Casino Info
| | |
| --- | --- |
| 🏢 Casino Name | Bally |
| 💻 Website | ballycasino.com |
| 🤵 Owner | Bally's Corporation |
| 🗓️ Year Established | 2021 |
| 🎲 Number of Games | 280+ |
| 🎰 Games offered | Slots, Blackjack, Roulette, Baccarat, VideoPoker, Craps, Poker |
| 🚫 Restricted Countries | All except New Jersey |
| ⚙️ Software Used | Playtech |
| 📱 Compatible Devices | Android, iPhone, Windows Phone, Tablet |
| ↩️ Payout Percentage | 92% |
| 💸 Payout Time | 1-5 days |
| 💰 Max Jackpot | $1 Million |
| 🌍 Languages | English |
| 💁 Customer Support | Email, Phone, Live chat |
Software & Games
Alright, folks, let's dive into the gaming extravaganza at Bally Casino! They're not messing around, offering a whopping 400+ games that hail from some big-name software maestros like NetEnt, IGT, Evolution Gaming, and a bunch of others. Plus, don't forget about the homegrown hits from Bally Technologies and Gamesys (yeah, they've been part of the Bally's Corporation crew since 2021).
Now, let's talk games, shall we? They've got all the cool cats here, including fan favorites like Secrets of the Phoenix, Gonzo's Quest, Cleopatra, and even Deal or No Deal. And that's just the tip of the gaming iceberg!
| Games | Variety | Number of games | Minimum bet | Maximum bet | Software |
| --- | --- | --- | --- | --- | --- |
| Blackjack | Lightning, Free Bet, Infinite | 3 | $1 | $5,000 | Evolution Gaming |
| Roulette | French bets | 1 | $0.50 | $5,000 | Evolution Gaming |
| Baccarat | Speed Baccarat | 1 | $1 | $5,000 | Evolution Gaming |
| Poker | Texas Hold'em, Three Card Poker | 2 | $0.50 | $2,000 | Evolution Gaming |
| Dream Catcher | N/A | 1 | $0.10 | $1,000 | Evolution Gaming |
| Football Studio | N/A | 1 | $0.50 | $12,500 | Evolution Gaming |
| Craps | N/A | 1 | $0.50 | $2,500 | Evolution Gaming |
Sure, online slots are the big cheese, but you've got more tricks up your sleeve with Slingo, blackjack, and roulette. Though we wouldn't mind seeing a few more jackpot-chasing games, but hey, blame it on those New Jersey rules, there's only a handful of those big pot games in town.
And guess what? You don't have to jump into the deep end right away. Nope, you can dip your toes in the demo mode first, practice till you feel like a pro, and then unleash your inner gambling guru when you're ready to roll.
But wait, there's more! Table game lovers, this is your jam. Bally Casino's got your back, offering a smorgasbord of options that'll make your gaming heart skip a beat.
Slots

| | | |
| --- | --- | --- |
| Starburst 🎰 🪄🥝 | Cash Eruption 🔥 💰 | Foxtrot 🦊 🍒 |
| Da Vinci Diamonds 💎 ☁️ | Jin Ji Bao XI ⚡ | Fishing Fever 🐟 |
| Summer Vibes 🏖️ 🍭 | The 100,000 Pyramid 🏜️ 💰 | 88 Fortunes 💰 🎯 |
Table Games

Live Dealer
| Games | Variety | Number of games | Minimum bet | Maximum bet | Software |
| --- | --- | --- | --- | --- | --- |
| Blackjack | Lightning, Free Bet, Infinite | 3 | $1 | $5,000 | Evolution Gaming |
| Roulette | French bets | 1 | $0.50 | $5,000 | Evolution Gaming |
| Baccarat | Speed Baccarat | 1 | $1 | $5,000 | Evolution Gaming |
| Poker | Texas Hold'em, Three Card Poker | 2 | $0.50 | $2,000 | Evolution Gaming |
| Dream Catcher | N/A | 1 | $0.10 | $1,000 | Evolution Gaming |
| Football Studio | N/A | 1 | $0.50 | $12,500 | Evolution Gaming |
| Craps | N/A | 1 | $0.50 | $2,500 | Evolution Gaming |

Alright, let's talk game organization at Bally Casino, shall we? They've got it all neatly sorted out, whether you're into the classic A-Z format or prefer to narrow it down with some nifty filters. And when you hit that play button, these games don't keep you waiting – they load up faster than a rocket launch.
Now, let's get down to the nitty-gritty. When it comes to customization, you're spoiled for choice. You can tweak things like bet size, volatility, bonus rounds – heck, even the size of those elusive jackpots.
And hey, we've heard some folks gripe about Bally's game selection being a bit on the petite side, but guess what? They've been beefing it up big time over the last year or so. We're talking serious improvement here. So, if you ask us, every type of gambler, from the cautious bettors to the high-rolling risk-takers, will find something that tickles their fancy here. That's why we're giving it a solid 4.2 out of 5 – Bally Casino's a winner in our book!
Game Providers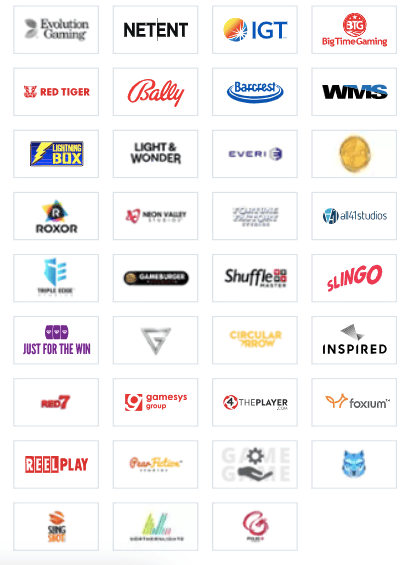 Mobile Gaming
Whether you're rocking an Android gadget or wielding an iPhone/iPad, Bally's got your back with their nifty casino apps! You can snag these bad boys on Google Play or the App Store, depending on your flavor.
Now, check this out – these apps are total crowd-pleasers, racking up thousands of thumbs-up from happy campers. The Android crew gives it a cool 4/5, while the Apple squad is even more jazzed with a 4.5/5 rating.
But wait, there's more! These apps aren't holding back when it comes to game variety. They've crammed almost all the same games from the main website into a sleeker, touchscreen-friendly package. So, our Bally review is giving them a high-five for that.
And guess what? You don't have to miss out on that sweet welcome bonus just 'cause you're on the move – it's up for grabs in the mobile casino too.
If you're wondering what it's like to switch from your trusty laptop/desktop to a handheld device, no worries. You can dip your toes in the water with the demo mode, and we're betting you'll be pretty darn impressed. That's why we're giving it a solid 4.5/5 – Bally's mobile game is strong!
Regulations & Fairness
Owner
Licensed by
Bally's Management Group, LLC
New Jersey (Division of Gaming Enforcement),
Pennsylvania (Pennsylvania Gaming Control Board)
Bally Casino, folks, is a joint venture between Gamesys US LLC and Premier Entertainment AC, LLC, also known as Bally's Atlantic City Casino Resort. They're all about playing by the rules and have the green light from the State of New Jersey Division of Gaming Enforcement, thanks to their Internet Gaming Permit. Translation: this place is legit!
They've got some fancy tech in place too. Geolocation magic ensures that players are where they say they are – New Jersey for most folks or Pennsylvania if you're on the PA version of Bally Casino. Plus, they've got links to some responsible gambling help like 1-800-GAMBLER and Gamban, just in case.
And hey, if you're ever in need of some bedtime reading, scroll down to the bottom of any page on Bally Casino. You'll find the terms and conditions, privacy policies, and all those other important rules. It's always good to have that stuff handy for reference.
Now, here's the thing – Bally doesn't spill the beans on external audits, the secret sauce behind their Random Number Generators (RNGs), or the average Return to Player (RTP) numbers for their games. But don't sweat it too much – they might drop more info on these topics down the road. For now, it's not a biggie.
Bonuses at Bally Casino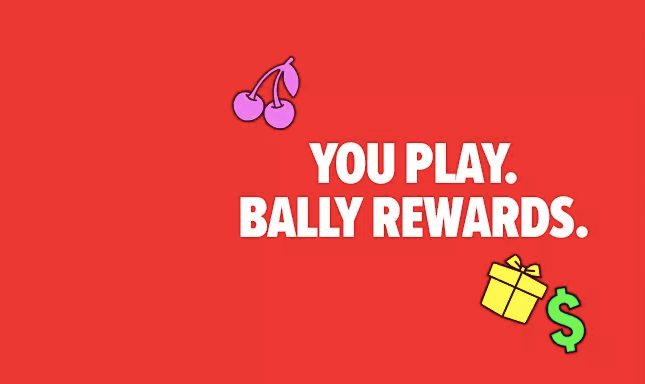 Bally Casino has got a whole treasure trove of promotions waiting for you, ranging from daily free spins to a cool $50 bonus when you introduce a friend to the party. But let's kick things off by diving into their welcome bonus, which comes in the form of a super cool money-back guarantee.
Here's the scoop: Bally Casino lets you throw down your first deposit, up to a sweet $100, with zero anxiety. Why? Well, because if Lady Luck doesn't play nice and you lose that first deposit within your first 7 days of playing, they've got your back. They'll give you the whole kit and caboodle back, no questions asked. It's like having a safety net to catch you if you stumble – pretty awesome, right?
Now, let's break it down:
You gotta toss in a minimum of 10 bucks to join the party.
If you happen to lose your first deposit, Bally Casino's got your back and will refund you up to a hundred smackers.
This shiny deal is for the newcomers, so if you're already part of the Bally gang, sorry, you'll have to dig into their other goodies.
And guess what? That cashback they hand you is the real deal, no strings attached, and you can yank it out as cold, hard cash (as long as you've got at least 10 bucks to withdraw). No pesky wagering requirements to sweat over.
But hey, you've gotta be 21+ and hanging out in NJ to enjoy all these goodies.
And for the seasoned pros, there are other promos like the Summer Happy Hours, where you can grab 15% playback on your total net loss, up to $15 in bonus cash per day. It's like an extra layer of protection against those pesky losing streaks. Enjoy the perks!
Customer Support
| Contact Information | |
| --- | --- |
| 📧 Support Email | [email protected] |
| 💬 Live Chat | Available on Bally Casino website |
*Please note that the contact information provided is accurate at the time of writing and may be subject to change.
If you hit a bump in the road at Bally Casino, don't worry – they've got your back. Your first pit stop should be their super-helpful self-service help center, covering everything from account checks to bonuses and geolocation. But if you're still in a pickle, fear not, there are more ways to get the assistance you need.
You can reach out to Bally Casino's support team 24/7. Drop them an email or jump into a live chat, which is just a click away in the bottom-right corner of your screen. And if you're a fan of the good old-fashioned phone call, they've got a toll-free number with an 844 area code. Now, they don't lay out their operating hours for the phone line, but every time we gave it a ring, someone was there to lend a hand!
Overall, they've got a nice buffet of options to satisfy your support cravings. If we had to nitpick, our only minor quibble is that Bally seems to be more about shouting promotions on its social media than answering customer questions. Maybe folks just aren't asking questions there? But hey, that's a small hiccup in an otherwise solid support system, earning a hearty 4.5/5 from us!
Supported Languages
English
Payment Options & Currencies

At Bally, you've got a bunch of reliable payment methods to choose from, including credit/debit cards, PayPal, eCheck, and more. The beauty of it? The entry fee is just a mere $10 for minimum deposits, and when it's time to cash out, they've got you in the ballpark of industry standards.
Sure, you won't spot the likes of Skrill and Neteller here, but don't fret, there's a smorgasbord of options that'll suit most players just fine. And here's a sweet twist – you can swing by Bally's Atlantic City location to make your deposits and withdrawals in person if that's your vibe.
Now, here's the real icing on the cake: Bally Casino won't hit you with any sneaky transaction fees, and when payday rolls around, you can expect those sweet payouts in as little as 24 hours (unless you're going the ACH route). Deposits? Yep, those are lightning fast, typically instant. So, no waiting around when you're itching to play!
| Deposit methods | Minimum deposit |
| --- | --- |
| Visa | $10 |
| MasterCard | $10 |
| Discover | $10 |
| PayPal | $10 |
| eCheck (via VIP Preferred) | $10 |
| Cash cage (at physical gaming location) | Not specified |
| Withdrawal method | Withdrawal time | Minimum withdrawal |
| --- | --- | --- |
| Visa Direct | Within 24 hours | Not specified |
| MasterCard | Within 24 hours | Not specified |
| PayPal | 24 hours | $10 |
| ACH (via VIP Preferred) | 3 – 5 working days | Not specified |
| Cash cage (at physical gaming location) | Immediate after verification | $50 |
Currencies
US dollars
VIP Club
If you're planning to hang around at Bally, here's a tip: consider jumping on board the Bally Rewards train. It's your ticket to some extra perks. You can cash in your Bally Bucks at a rate of 1 Bally Buck for every cent of bonus money. And guess what? Your gameplay helps you stack up these Bally Bucks. Here's the lowdown on how they're handed out:
For every $20 you wager on slots, bingo games, or instant wins, you earn some Bally Bucks.
If you're more into baccarat and roulette, it takes $100 in wagers to earn them.
And for all the other casino games, including blackjack and video poker, you'll need to throw down $250 in bets.
Now, it's true that you'd have to wager $2,000 on slots just to snag a single dollar in bonus money, which might feel like a bit of a penny-pincher move. But hey, if you plan to stick around, why not sign up and slowly amass those Bally Bucks over time?
Oh, and a heads-up: the online Bally Rewards program is separate from the Atlantic City Bally Rewards program, so you'll have to sign up for both separately. That also means you can't swap your hard-earned online Bally Bucks for goodies in a physical Bally casino, or vice versa.
But wait, there's more! Bally Casino's got a VIP program that comes with some cool bonuses, personalized gameplay tips, and even your very own host. Plus, there are some real-world perks like events, room upgrades, and free meals. The only catch? You can't fast-track your way into this VIP party – you've gotta put in the time and hope the Bally team sends you an invite!
Now, let's talk bonuses. If you're all about those massive percentage match bonuses and love tossing around bonus cash, you might find Bally Casino's bonuses a bit underwhelming, hence the 4/5 rating. But for the rest of us, it's a neat way to dive into the action without the nagging worry of what if you lose your entire deposit. Cheers to that!
Real User Reviews
Surprisingly, there aren't any written reviews for Bally Casino just yet.
Bally Casino Review: Verdict & Score

| Pros | Cons |
| --- | --- |
| 🎮 A good range of games (400+) | 🛑 Bonuses tend to be money back guarantees rather than bonus cash |
| 💬 24/7 support through live chat, or email | 🔒 Limited choice of payment methods |
| 📱 Mobile casino app for Android and iOS | |
| ⚙️ Home to well-known providers | |
Hey there, if you've ever set foot in a Bally brick-and-mortar casino, you probably already know they're like the cool cats in the gambling scene. But guess what? Their online casino is a primo spot to get a taste of their customer-centric charm, even if you haven't experienced it in person.
Now, here's the juicy scoop: they've got a stellar lineup of games on tap, all served up by a bunch of top-notch providers. We're talking table games and slots, and the best part? You can dive into the action whether you're glued to your desktop, laptop, or you're on the move with your trusty mobile device.
And hold onto your hats, 'cause the promotions here are pretty sweet too. Imagine a money-back guarantee on your first deposit, up to a hundred bucks – that's like a golden ticket to worry-free gaming!
But hey, we're not gonna sugarcoat it – we'd love to see a few more games and payment options in the mix. But you know what they say, good things come to those who wait, and we've got our fingers crossed that they'll beef things up in the future. Still, these are just minor gripes in an otherwise glowing Bally casino review.
So, if you're kickin' it in New Jersey and itching for some online gambling action, this is pretty much the jackpot you've been searching for!